DASH STAT CENTRIFUGES
High performance STAT processing to meet the needs of the most demanding lean laboratories
Capacity: 12 (75-100 mm)
Max speed: 4000 xg, 5200 RPM
Dimensions: 9 x 15 x 13 in
Control: Digital display
Rotor: Horizontal
Weight: 34 lbs
Capacity: 6 (75-100 mm)
Max speed: 4000 xg, 5300 RPM
Dimensions: 8 x 13.5 x 11 in
Control: 3-setting
Rotor: Horizontal
Weight: 12 lbs
Capacity: 24 (75-100 mm, 6x 50 mL)
Max speed: 3450 xg, 4500 RPM
Dimensions: 9 x 17 x 14.5 in
Control: Digital display
Rotor: Horizontal
Weight: 39 lbs
Capacity: 12 (75-100 mm)
Max speed: 4000 xg, 5200 RPM
Dimensions: 9 x 15 x 13 in
Control: 3-setting
Rotor: Horizontal
Weight: 34 lbs
Capacity: 12 (up to 75 mm)
Max speed: 4400 xg, 6600 RPM
Dimensions: 8 x 13.5 x 11 in in
Control: 3-setting
Rotor: Fixed angle
Weight: 12 lbs
Capacity: 24 (75 -100mm, 6x 50 mL)
Max speed: 3000 xg, 4200 RPM
Dimensions: 9 x 17 x 14.5 in
Control: 3-setting
Rotor: Horizontal
Weight: 39 lbs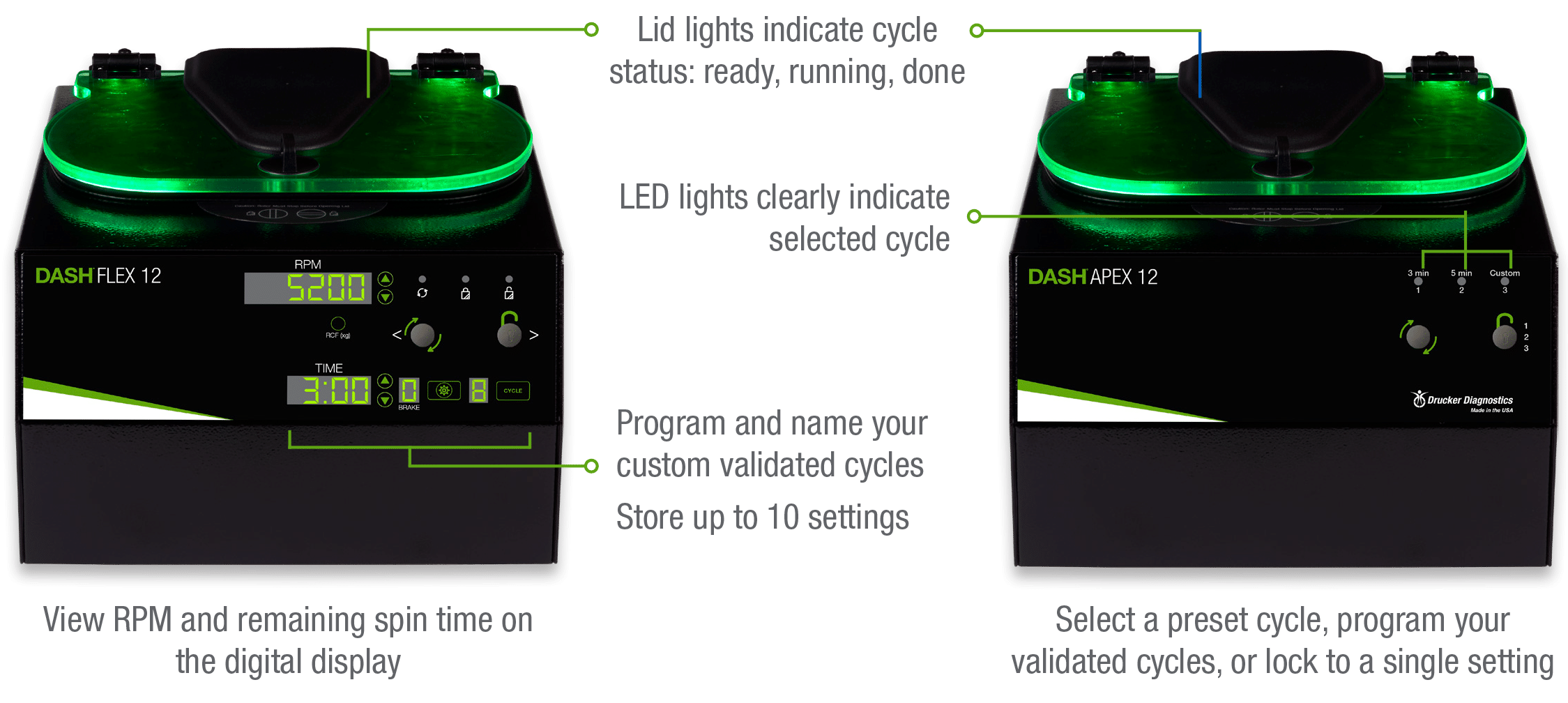 LEARN MORE ABOUT DASH STAT CENTRIFUGATION
"*" indicates required fields
DRUCKER DASH APPROACH
The Drucker DASH Approach to centrifugation, when used in combination with Drucker's DASH centrifuges, introduces a few simple changes to improve your turnaround time (TAT) and transform your lab into an agile system. The approach uses a centrifuge array to eliminate queuing, which allows for immediate centrifuging. Small centrifuges in an array can be loaded quickly without batching and without waiting for a previous cycle to finish.
Click below to learn more about the Drucker DASH Approach
DRUCKER DASH WHITE PAPERS
Explore the testing that has been performed on Drucker DASH units and see the TAT differences and specimen quality that has been achieved.
Designed, built, and supported in the USA