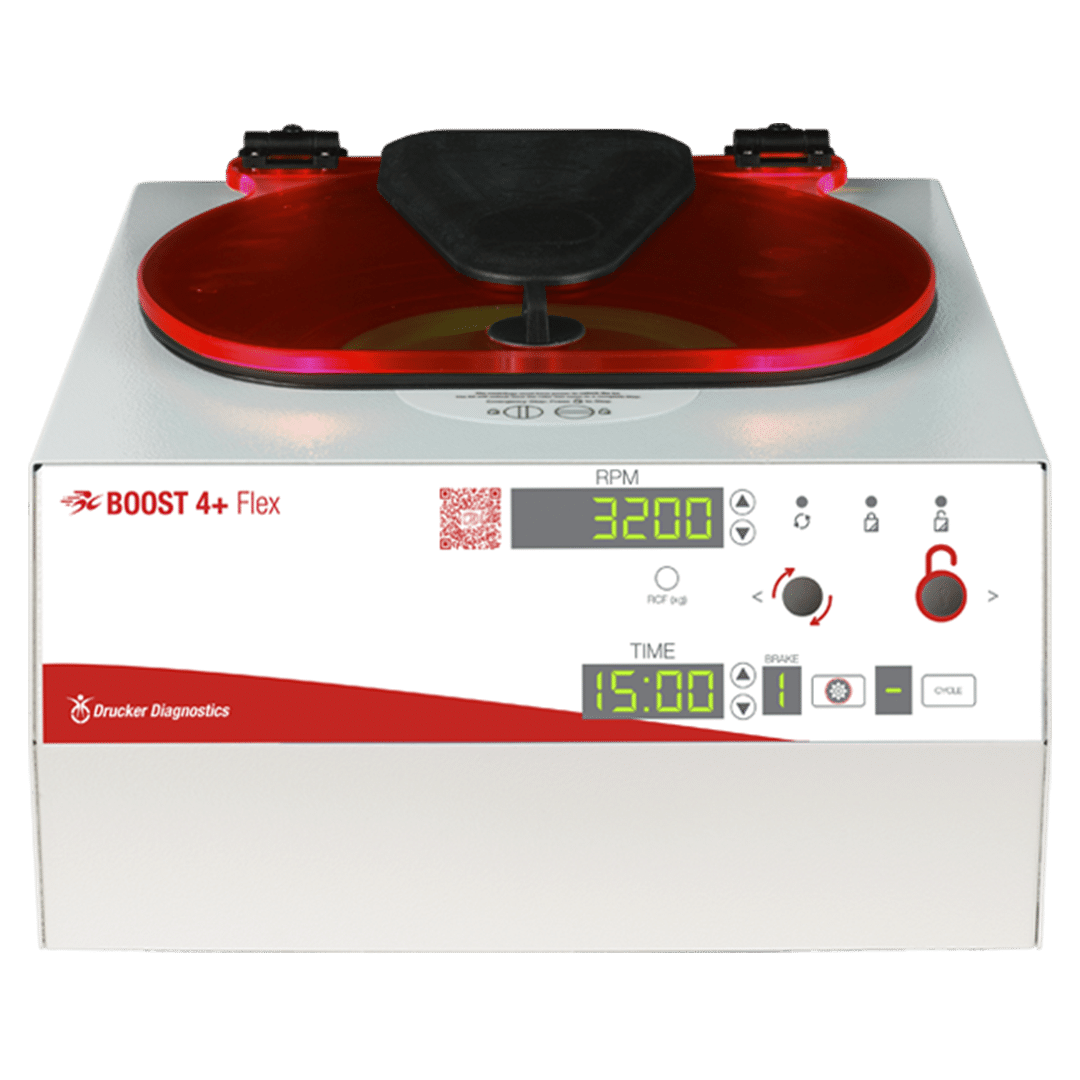 Rotor and Tube Holders Included, Inserts Sold Separately
BOOST 4+ Flex
For The Largest, Tallest Tubes
Capacity: 4 buckets, 1.81"W x 5.12"H (4.59 x 13 cm), up to 12 tubes with inserts
Max Bucket Load: 140 grams
Max RCF: 2950 xg
Max Speed: 4000 RPM
Weight: 39 lbs (17.7 kg)
Dimensions: 15 x 17 x 10 in (38 x 43 x 25 cm)
Warranty: 2 years
Spin all your tubes with the largest capacity BOOST
Spin your ideal cycle adjust RPM, RCF, time, and braking
Ready for heavy workloads
Ships quickly
Designed, built, and supported in the USA
The Highest Capacity
Extra-large buckets fit four of your biggest devices. Formed inserts ensure a perfect fit for anything smaller. Your IFUs can be pre-programmed or adjusted on the fly.
Spin Your Way
Your devices, spun your way. Control everything about your centrifuge, from speed to time to braking. 
Convenient For The User
It's the dream machine for the user too. It's easy to move around as workflow demands, and rugged enough for any working environment.
What is the warranty on Drucker's centrifuges?
Drucker Diagnostics provides a two (2) year parts and labor warranty.
Will I need to purchase accessories for the centrifuge separately?
Your BOOST 4+ Flex includes the rotor and buckets. Inserts for your specific tube size need to be purchased separately. There are several different sizes to accommodate the widest variety of tubes. Inserts are sold in pairs - please make sure to purchase enough pairs for your needs.
How often should my centrifuge be calibrated?
Drucker Diagnostics recommends the centrifuge be calibrated every 2 years or 5,000 cycles.
What should be used to clean and disinfect the BOOST 4+ Flex?
ONLY isopropyl alcohol, soap and water, or a 10% (5,500 PPM) bleach solution should be used for cleaning and disinfection of the centrifuge and accessories. All surfaces must be dried immediately after cleaning and disinfecting.
What cleaning solutions should be avoided?
TBQ Germicidal products should not be used as they will cause damage to the centrifuge and void the warranty. The use of fully/partially halogenated hydrocarbons, ketones, esters, ethers, benzyls, ethyl benzenes, and all other chemicals not prescribed by Drucker Diagnostics should not be used as they may cause damage to the rotor chamber, rotor, tube holders, accessories, and centrifuge exterior. If this occurs the warranty will be voided.
Want to learn more? Request more information