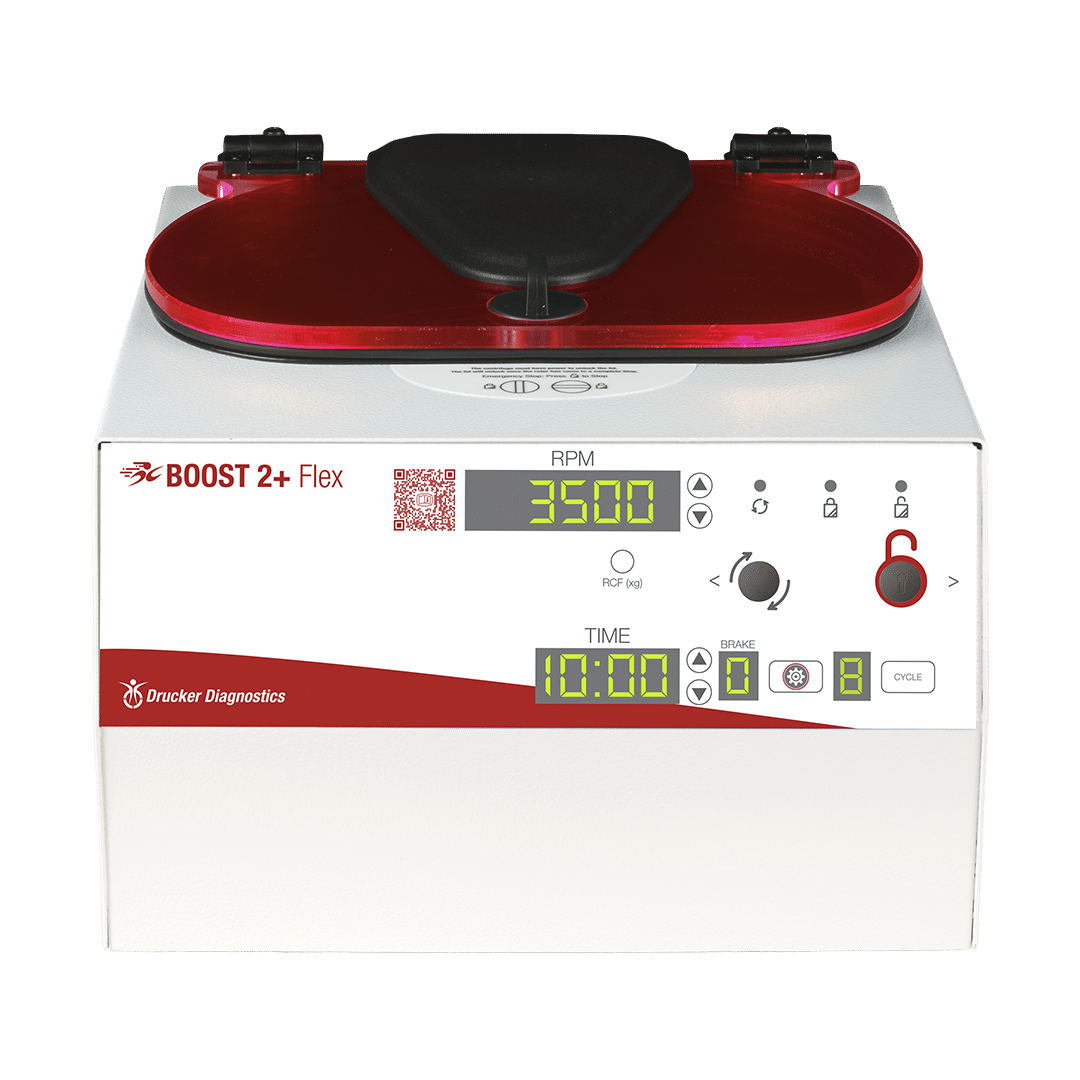 Rotor and Tube Holders Included, Inserts Sold Separately
BOOST 2+ Flex
Mid-Size Centrifuge to Fit the Widest Variety of Tubes
Capacity: 2 buckets,1.9"W x 5.4"H (4.8 x 13.7 cm), up to 6 tubes with inserts
Max Bucket Load: 140 grams per bucket
Max RCF: 3000 xg
Max Speed: 4400 RPM
Weight: 34 lbs (15.4 kg)
Dimensions: 13 x 15 x 9 in (33 x 38 x 23 cm)
Warranty: 2 years
Compact design requires just 1.35 ft² (1,254 cm²) of counter space
Program up to 10 custom settings using the digital display
Extra large capacity for your largest disposables
Designed, built, and supported in the USA
Spins All Your Tubes
Extra-large buckets fit your biggest devices. A wide selection of inserts ensure a perfect fit for anything smaller. Your IFUs can be pre-programmed or adjusted.
Customized Just For You
Your devices, spun your way. Control everything about your centrifuge, from speed to time to braking. Select from a wide variety of inserts to fit all your tubes.
Your Providers Will Love It
It's the dream machine for the user too. It's easy to move around the clinic as workflow demands, and convenient for providers on the go.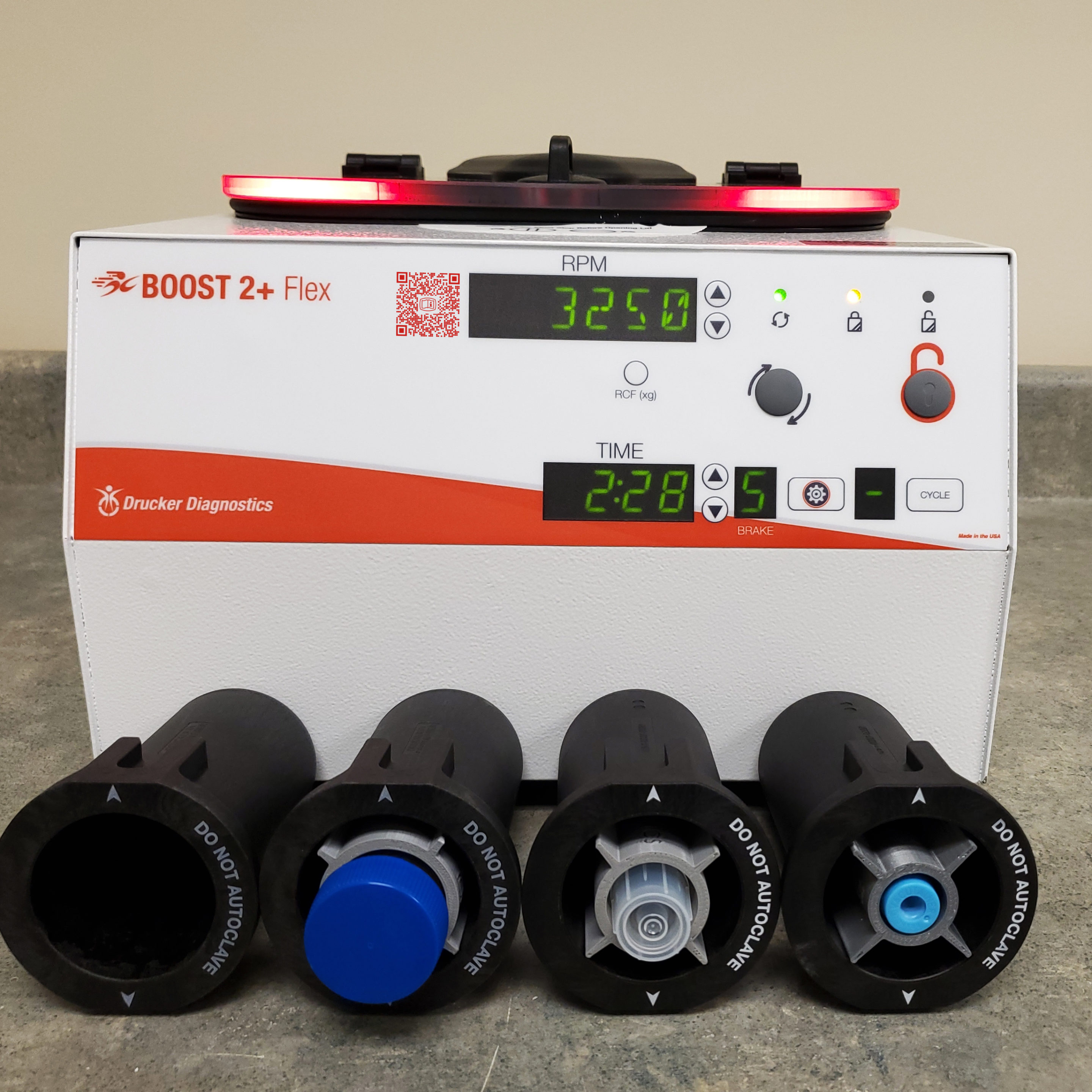 Inserts to fit the widest variety of disposables and tubes.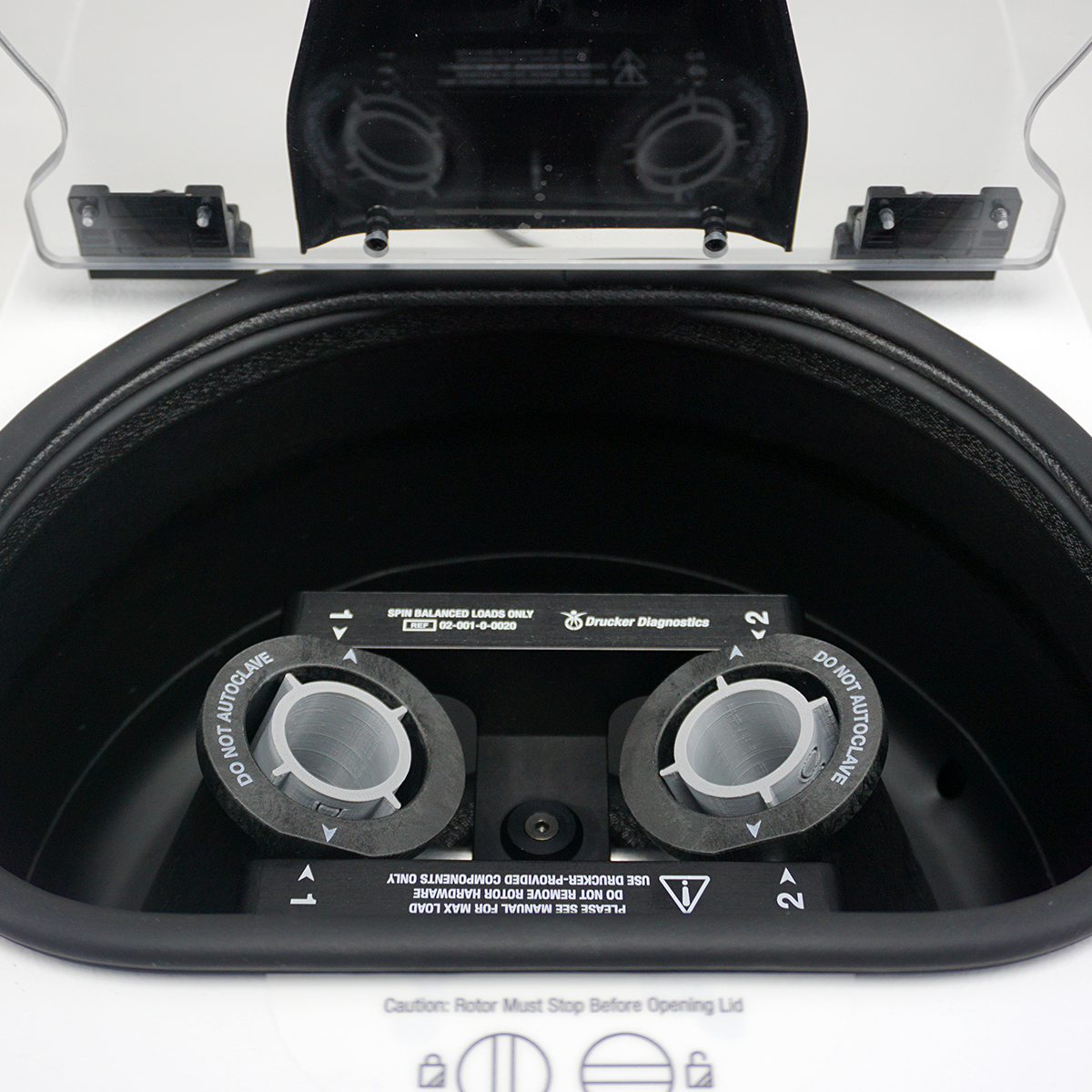 Inserts (grey) fit inside buckets. Simply switch inserts as needed for each size tube.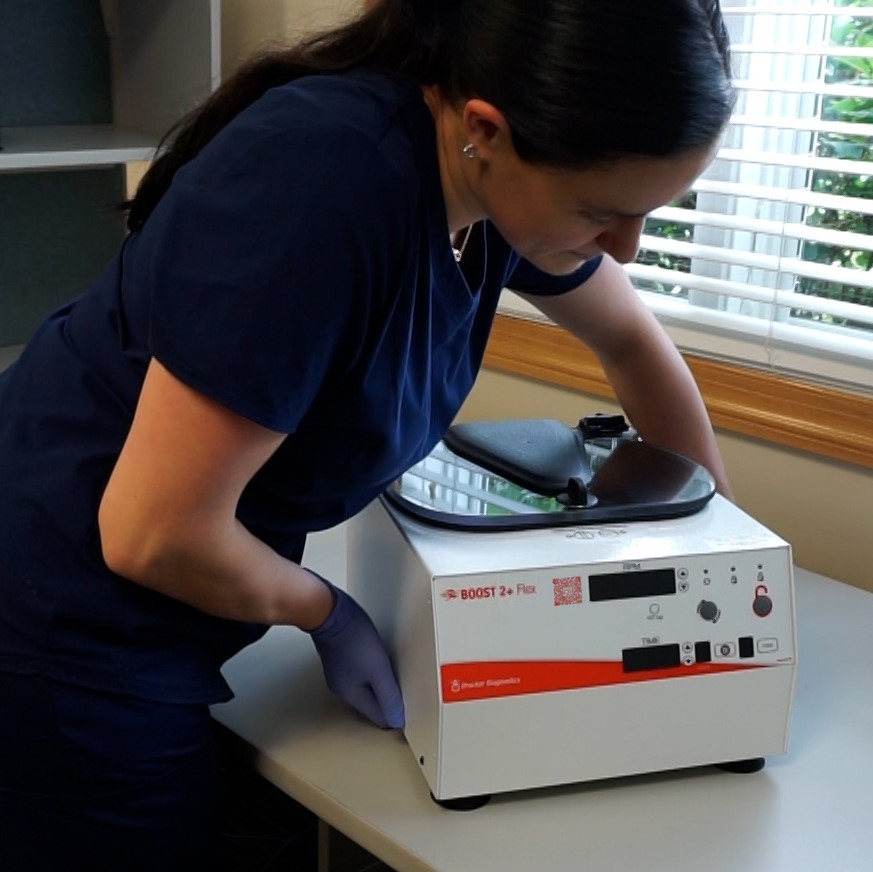 Small and lightweight, the BOOST 2+ Flex is easy to handle.
A full playlist of how-to videos to help you get the most out of your BOOST 2+ Flex centrifuge.
What is the warranty on Drucker's centrifuges?
Drucker Diagnostics provides a two (2) year parts and labor warranty.
Will I need to purchase accessories for the centrifuge separately?
Your BOOST 2+ Flex includes the rotor and buckets. Inserts for your specific tube size need to be purchased separately. There are several different sizes to accommodate the widest variety of tubes. 
How often should my centrifuge be calibrated?
Drucker Diagnostics recommends the centrifuge be calibrated every 2 years or 5,000 cycles.
What should be used to clean and disinfect the BOOST 2+ Flex?
ONLY isopropyl alcohol, soap and water, or a 10% (5,500 PPM) bleach solution should be used for cleaning and disinfection of the centrifuge and accessories. All surfaces must be dried immediately after cleaning and disinfecting.
What cleaning solutions should be avoided?
TBQ Germicidal products should not be used as they will cause damage to the centrifuge and void the warranty. The use of fully/partially halogenated hydrocarbons, ketones, esters, ethers, benzyls, ethyl benzenes, and all other chemicals not prescribed by Drucker Diagnostics should not be used as they may cause damage to the rotor chamber, rotor, tube holders, accessories, and centrifuge exterior. If this occurs the warranty will be voided.
Want to learn more? Request more information