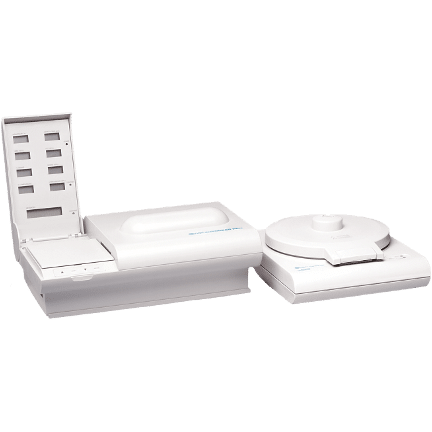 QBC® Autoread Plus
Dry Hematology
No Liquid Reagents
9 Parameter, 2 Part Differential CBC
For Capillary and Venous Blood
Rapid CBC Testing
7 Minute Results
Low Maintenance
Increased Patient Satisfaction
Increased Physician Efficiency
Included Parts:
QBC AccuTubes (box of 10) – 3406-300-000
Pipetter – 424225
Universal Power Pack – 421763
Capillary Centrifuge – 425740
USB to USB "B" Cable – 4617-000-005
General Specifications
Dimensions (in.) – W 13.5 x D 9.5 x H 4
Dimensions (cm.) – W 34.3 x D 24.13 x H 10.2
Weight – 8 lbs. (3.6 kg)
Noise – 55.7 dB(A)
Display – Reflective-type, LCD Display
Sample Volume

70 μL (AccuTube)
60 μl (Standard Capillary/E-Z Prep Capillary)
111 μl (Standard Venous/E-Z Prep Venous)
Electrical Specifications
Voltage – 90 – 265 VAC
Frequency – 50 – 60 Hz
Power – 170 Watts
Power Cord – 8 ft. (2.4 m)
DC Output Cord – 3 ft. (0.3 m) 8 wire, shielded cord and 9-pin male plug
Operating
Temperature – 20°C – 37°C
Humidity – 10% – 95% (non-condensing relative humidity)
Non-Operating
Temperature: -20°C – 60°C
Humidity – 10% – 95% (non-condensing relative humidity)
The QBC Autoread Plus has a decade-long proven track record of being extremely reliable in the world's harshest environments. From medical tents in Iraq and Afghanistan to research facilities in Antarctica, the Autoread Plus handles the worst conditions imaginable, time and time again.
The Autoread Plus Dry Hematology System offers a durable, cost-effective option for conducting hematology testing in virtually any setting. The Autoread Plus System, which consists of a reader, a centrifuge, and an external printer (US only), uses patented dry hematology technology to deliver a 9-parameter, 2-part differential. This results in many benefits for the user.
Features
Eliminating Liquid Reagents
Unlike competing products, the Autoread uses no liquid reagents. With no liquid reagents, lab storage requirements are minimal. Little maintenance is required and there is no need to clean or replace internal parts. The only waste products generated by the Autoread are the QBC Tubes themselves – which are much easier to dispose of than dangerous biohazard reagent chemicals.
Durability and Portability
The Autoread System is the most durable CBC analyzer on the market. Its dry hematology technology and hard plastic frame make it suitable for conducting testing in even the harshest conditions. Because of the unique QBC dry reagent technology, the Autoread can be transported and quickly deliver results in any location without concern for leaking or damage. Setup time is minimal, as the Autoread is always ready to provide fast, accurate hematology analysis.
Easy to Use
Learning to use the Autoread is easy. After preparing a blood sample using a QBC Tube, simply centrifuge the tube for five minutes at 12,000 RPM and then place it in the reader. Results will print out automatically using an attached printer. Office personnel can be easily trained to use the Autoread, making the most of any office's limited resources.
9-Count CBC
The Autoread measures nine important CBC hematological parameters from venous or capillary blood samples: hematocrit, hemoglobin, MCHC (Mean Corpuscular Hemoglobin Concentration), platelet count, white blood cell count, granulocyte count and percentage, and lymphocyte/monocyte count and percentage. Clinical trials have demonstrated that the accuracy and precision of the Autoread System correlate well to accepted standard methods.
Reliability
The Autoread is exceptionally reliable. The system is permanently calibrated during manufacturing, so the user needs to only run a basic daily calibration check to verify satisfactory performance. Because of the unique QBC dry technology the Autoread can deliver reliable results using on a finger stick blood sample.
Literature
Brochure

A full-color brochure describing the features and benefits of the QBC Autoread Plus Dry Hematology system
English
Operator's Manual
The complete operator's manual for the QBC Autoread Plus
English / Français
Product Spec Sheet
A full list of product specifications, including operating ranges, dimensions, and more
English
Product Description List
A list of all configurations and accessories currently available for the QBC Autoread Plus, including part numbers
English
Technology
The technology at the heart of the Autoread is a process known as Quantitative Buffy Coat (QBC) analysis.
This process is based on the physiological phenomenon in which the differing densities of blood components will cause them to separate into layers when centrifuged at a high rate of speed. Click here to watch a video on Dry Hematology technology.
QBC tubes, including the many varieties available for the Autoread, take advantage of this phenomenon in two ways. First, through the use of a small plastic float with the approximate density of platelets and white blood cells (the "buffy coat"), those usually small layers can be physically expanded for greater analysis. Second, a metachromatic acridine orange stain coating the inside of the tubes stain lymphocytes and monocytes green, platelets yellow, and granulocytes orange, making the difference between layers visible – even to the naked eye. Once a sample has been centrifuged, the Autoread utilizes a dual light source and optical detector to read the results of the test. Once complete, the Autoread prints the results to an attached external printer.
Capillary Centrifuge Specifications
Height – 5.0 in. (12.7 cm)
Width – 9.25 in. (23.5 cm)
Depth – 11.75 in. (29.8 cm)
Weight (with rotor and cover installed) – 6.2 lbs. (2.8 kg)
Nominal Speed – 12,000 RPM (± 80 RPM)
Releative Centrifugal Force (RCF) – At Nominal Speed: 14,387 g
Rotor Capacity – 20 Numbered Tube Slots
Electronic Timer – 300 Seconds Spin; 15 – 20 Seconds Deceleration
Electro-Mechanical Safety Interlock – Lid must be closed and latched before the motor can be energized. Lid remains locked until the rotor stops.
Electrical – 48 VDC (± 3 VDC), 2.7 ADC Maximum, Steady State
Power Input Cable – 4.8 in (12.2 cm)
Autoread Plus Specifications
Height – 4 in. (10.2 cm)
Width – 13.5 in. (34.3 cm)
Depth – 9.5 in. (24.13 cm)
Weight – 8 lbs. (3.6 kg)
Noise – 55.7 dB(A)
Display – Reflective-Type, LCD Display
Voltage – 90 – 265 VAC 
Frequency – 50/60 Hz
Power – 170 Watts
Power Cord – 8 ft. (2.4 m)
DC Output Cord – 3 ft. (0.3 m) 8 wire, shielded cord and 9-pin male plug
Sample Volume – 

70 µL (AccuTube)
60 µL (Standard Capillary/E-Z Prep Capillary)
111 µL (Standard Venous/E-Z Prep Venous)

Power Pack

Height  – 3.5 in. (8.9 cm)
Width – 7.0 in. (17.8 cm)
Depth – 3.75 in. (9.5 cm)
Weight – 5.5 lbs. (2.5 kg)
Printer Compatibility
From a printer compatibility standpoint, Autoread instruments running the standard software are the hardest to support due to their reliance on parallel printing. Nowadays, it is fairly uncommon to find new printers supporting this type of connectivity. However, two out of the seven printers tested worked with the instrument. The five printers that are not compatible were simply due to the fact that they did not offer parallel connectivity.
Autoread, Standard Cartridge

Autoread, Matrix Cartridge

Frequently Asked Questions
Is the Autoread considered CLIA waived?
Currently, all of the QBC Systems are moderately complex.
How often do I have to run external controls on the QBC Autoread Plus?
Traditional quality controls consist of running at least two levels of external control material each day of patient testing.
My controls arrived warm (ice packs were melted); can I still use the controls?
The controls may work in the short term, but may be prone to early degradation. If the controls are warm, a replacement set can be requested by calling Drucker Diagnostics Technical Support at +1-866-265-1486 (US only)
What type of sample is required for QBC Autoread testing?
Whole blood samples collected from either a capillary fingerstick or a venous blood draw (EDTA purple top tube).
How much blood is required to test on the Autoread systems and what collection method should be used?
The amount of blood is dependent on the type of tube being used:
AccuTube – 70 µL, fingerstick collection or venous blood (EDTA tube)
Standard Capillary – 60 µL, fingerstick collection
Standard Venous – 111 µL, venous blood (EDTA tube)
What tube types can be used with the Autoread System?
AccuTube, Standard Capillary, or Standard Venous tubes.
How long can a venous sample be stored prior to testing on the Autoread System?

This is dependent on each individual tube type. Check the tube package insert for each specification.
Can a sample be processed more than once in the Autoread?
Yes – once centrifuged, the QBC tubes can be analyzed more than one time. The tube must be stored in an upright position and be stable at room temperature for up for up to four (4) hours. QBC tubes, however, should NOT be centrifuged more than one time.
How can I get results from my QBC Autoread into other external systems (e.g. EMR, LIS, etc.)?
Drucker Diagnostics recommends contacting Apex Healthware. Apex Healthware is a developer of affordable HL7 interfaces and laboratory information systems.
What printers are compatible with the QBC Autoread Plus?
Brother HL-5240, Brother HL-5250DN, and Brother HL-5340D. Other printers may work with the system if they use the Epson language (ESC/P2/LQ).
The Autoread ran the test but the results are not printing. Why?
Power off the printer and follow the instructions in the Operator's Manual for resetting the print format. Power on the printer and test the cal rod or a sample.
Can I reprint the results on the QBC Autoread?
If the tube is still in the instrument, press the 'Next' button.
What causes a "Sample Error 20" or "Buffy Coat Unreadable" errors?
These errors are generally sample related. Ensure that venous samples are well mixed prior to loading the QBC Tube. Invert the venous tube 12-15 times prior to loading the tube or 5 minutes on a mechanical rotator. For capillary samples, proper collection technique is extremely important. Warming the finger, using a blade lancet, wiping off the first drop of blood, and refraining from excessive squeezing of the collection area will yield a good sample. Certain illnesses and disease processes may contribute to these errors as well. If an illness or disease is thought to be the cause of the error, the patient should be tested via another method.
Contact Technical Support for any question.
I am seeing discrepancies between the results on the QBC and the results from the reference lab. Why?
The results from two different CBC methodologies will rarely be exactly the same. Confirm that the results are from the same sample. If one set of results is from a capillary sample and the other set is from a venous sample, the results could vary significantly. If the results vary between multiple capillary or multiple venous samples, it could be due to differences in the times of collection technique.
If the results are from the same venous sample, remix the venous tube at least 12 – 15 inversions prior to sampling. Confirm that the test was performed within the acceptable time limit and that the venous sample was stored according to the manufacturer's recommendation.
Can I run Veterinary samples on the Autoread?
It is not recommended to run animal samples on the instruments designed for human testing. IDEXX has the QBC Veterinary instruments with the appropriate software and tubes for animal samples. Contact IDEX at +1-800-248-2483.
Service
For all service inquiries, please contact the Drucker Diagnostics Technical Service Department at +1-866-265-1486 (US only) or support@druckerdiagnostics.com. Our Technical Support Representatives are available Monday – Friday, 8:30 a.m. to 5:00 p.m. (EST). Otherwise, please contact your nearest Drucker Diagnostics office for assistance.
Limited Warranty
Drucker Diagnostics includes a one-year limited warranty from the date of the original shipment on all Autoread Plus Analyzers AND QBC Centrifuges. In the unlikely event that an Autoread Plus Analyzer or a QBC Centrifuges needs repair due to defects in materials and workmanship, the warranty covers all parts and labor needed to repair both instruments at no cost to the user. The Autoread Plus printer is covered by the terms of its own manufacturer's warranty. Please consult Appendix D of the Autoread Operator's Manual for more details on the terms of the warranty.
Beyond the initial one-year warranty, QBC Diagnostics offers two additional annual service agreement programs, the Single Swap and Double Swap Service Agreements, each of which may be contracted for one (1) or two (2) years. With the Single Swap Service Agreement, Drucker Diagnostics will simply replace the user's broken Autoread Plus system with a refurbished system at no additional cost to the user. With a Double Swap system, Drucker Diagnostics will provide a temporary replacement Autoread Plus while your Autoread Plus system is repaired and then returned back to you. For more details on these service agreements, please consult the Annual Service Agreement Programs document and the Service Agreement Renewal form.
QBC Autoread Plus Analyzer
There are no customer-serviceable internal parts on the Autoread Plus Analyzer. Calibration adjustments, failure of internal lamps, or mechanical-electrical problems must be referred to a qualified Drucker Diagnostics service technician. The only replacement parts currently available for the Analyzer are external parts such as the power pack, line cords, and, in extreme cases, the software cartridge. Consult the Product Description List for ordering information on these parts.
Autoread Plus Analyzer Power Pack
There are no customer-serviceable parts on the Power Pack. The unit, however, is protected by internal overload and thermal fuses. If the Power Pack fails to supply DC outputs to the analyzer, check the electrical line to the receptacle that supplies current to the Power Pack before requesting service. To order a replacement Power Pack or line cord, consult the Product Description List for ordering information on these parts.
QBC Centrifuge
For information on service and repair for the QBC Centrifuge, please consult the operator's manual.
QBC Pipetter
Blood leakage or failure of the QBC Pipetter to aspirate blood to the correct level may indicate that the Pipetter barrel is worn or should be replaced. To order a replacement Power Pack or line cord, consult the Product List page for ordering information on these parts.
CLIA
What is CLIA?
CLIA is an acronym for Clinical Laboratory Improvement Amendments. It sets forth uniform quality standards for laboratories and applies to all entities that perform tests for health purposes on human specimens. CLIA requirements are based on the complexity of tests performed (waived, moderated, or high).
QBC hematology systems, such as the Autoread Plus, are considered moderate complexity test systems and therefore must meet quality requirements for moderately complex training.
Written Procedure Manual
A procedure manual is a detailed sequence of activities showing how the test procedure is to be performed. It breaks down the test procedure one step at a time. You may utilize the Autoread Plus Operator's Manual as your procedure manual if it is your policy to do so. Please ensure personnel are informed that they must follow the procedure as stated in the Operator's Manual for performing the test. The procedure must be approved and signed by the Laboratory Director.
Proficiency Testing
CLIA requires that you participate in a Proficiency Test Program. These programs monitor the performance of your test system. Participants will receive five unknown samples, three times per year. Samples are to be treated in the same manner as patient specimens. The results are evaluated and comparisons are made to other laboratories within your Peer group: laboratories using the same analyzer and tube type. Below is a listing of Proficiency Test Providers:
Personnel Training and Evaluation
For a link to CLIA personnel qualifications, visit www.cms.hhs.gov/cmsforms/downloads/cms209.pdf
Laboratory Director

CLIA specifies that a physician (MD or DO) serving as Laboratory Director must have at least one year experience supervising moderately complex testing OR complete a 20 credit course. This course can be completed online at www.medicine.uiowa.edu/cme/clia/. The Lab Director can also attend a 2.5 day workshop provided by COLA (please visit www.cola.org for dates and times).
Additionally, individuals with a Bachelor's degree and two (2) years of laboratory experience PLUS two (2) years of supervisory experience, or a Master's degree and one (1) year experience PLUS one (1) year supervisory experience, also qualify to direct a moderately complex laboratory.

Other Positions – Moderately complex laboratories also have three other positions specified by the CLIA:

Clinical Consultant (Qualified Laboratory Director)
Technical Consultant (Qualified Laboratory Director)
Testing Analyst (High School Diploma and Documented Training)
Note: A single person may fill the position of Lab Director, Clinical, and Technical Consultant.

Quality Assessment – CLIA requires that the following quality standards be tested and documented on moderately complex systems:

Specimen ID and Integrity
Patient Confidentiality
Personnel Competency Assessment
Proficiency Testing
Test Requesting
Note: One means of these quality standards is through the use of internal and external quality checks, as appropriate.

External Quality Checks

Liquid controls are available for the Autoread Plus through Drucker Diagnostics. Traditional quality controls consist of running at least two levels of external control material each day of patient testing.
Drucker Diagnostics also offers an online Inter-Lab Quality control (ILQC) program to provide monthly peer comparisons with statistical evaluation of your results. To access this program, please click here.
CLIA Inspections
CLIA requires inspections every two years. The inspections are non-punitive unless there is failure to correct deficiencies.
Laboratories may also choose another CLIA approved accrediting agency, including COLA (www.cola.org), CAP (www.cap.org), or JCAHO (www.jcaho.org) to conduct the inspections. These organizations will assist you in preparing your laboratory for inspection, including support and training. Fees vary, so please visit each individual site for further information on the services they provide.
Application for CLIA Certification
To apply for CLIA certification, or to change Certificate Type, please consult the following website: www.cms.hhs.gov/cmsforms/downloads/cms116.pdf.
Please note that your completed CLIA application should be forwarded to the address of the local State Agency for the state in which your laboratory resides. You should also contact this State Agency for additional forms that may be necessary to complete the registration process. For a listing of contact information by state, please go to the following website: https://www.cms.gov/Regulations-and-Guidance/Legislation/CLIA/Downloads/CLIASA.pdf.
States Requiring Certification – CA, CT, FL, HI, MD, NV, PA, and WA
Testimonials
QBC Autoread Plus and Systems have been in use, globally, for over 25 years with active installations on every continent, including Antarctica. There are over 15,000 active hematology systems worldwide and at least 1,500 fluorescent microscopy systems using Drucker Diagnostics' Malaria, Parasitology, and TB kits. If you would like references for any of our innovative solutions from users near you, please contact us.  
---
"Following the earthquake (January 2010), our clinic lab was inundated with new patients. As a result, we needed a solution for quickly and effectively diagnosing anemia and other diseases. Someone told me about the Autoread Plus and made a donation so that we could buy the system. I cannot begin to tell you the difference it is making in the accuracy and efficiency of our diagnostics. It is especially marvelous because there is not a tremendous amount of blood to be disposed of. Plus, our charts are such that the lab results can be nicely displayed."
Berry Rice, Director, Cliniuqe Esperance et Vie. Terrier Rouge, Haiti. www.BethlehemMinistry.org   
---
 "With the QBC Autoread, we have been able to increase our overall lab productivity with only minimal maintenance and an impressive amount of convenience. The design of the system in terms of its size and portability is well-suited for rural district hospitals such as ours and enables us to think about not only hospital-based laboratory tests, but also the possibility of carrying our lab equipment to regional sites where their lab capacity may not be as robust as our own, thereby helping to create partnerships and increase health services more broadly throughout the region."
Dan Schwarz, Executive Director, Nyaya Health, Nepal. www.nyayahealth.org
---
"The QBC Autoread Plus is a durable workhorse. We've used the unit for about 3 years in remote jungle locations and our newer stationary health clinic in the Bolivian Amazon. The unit provides valid and reliable results and requires relatively low maintenance. It is also extremely user-friendly. Although we do not have a high patient volume (we average roughly 10 patients per day), the QBC Autoread Plus has outlasted nearly all of our other laboratory equipment. I highly recommend this product for analysis of hematocrit, hemoglobin, platelet count, and differential cell counts. 
Michael Gurven, Integrative Anthropological Sciences, Unit Chair, University of California, Santa Barbara. www.unm.edu/~tsimane/