The drop-in replacement for the BD Sero-Fuge™
Drucker Diagnostics worked closely with BD to create the SERO 12, a drop-in replacement for the discontinued Sero-Fuge. In fact, the SERO 12 uses the exact same rotor and accessories as the Sero-Fuge, so your existing serology processes can remain unchanged.
Did you know all Drucker products are free to try for 30 days? Call us toll-free at 1-866-265-1486 or fill out the form below to learn more. We look forward to hearing from you!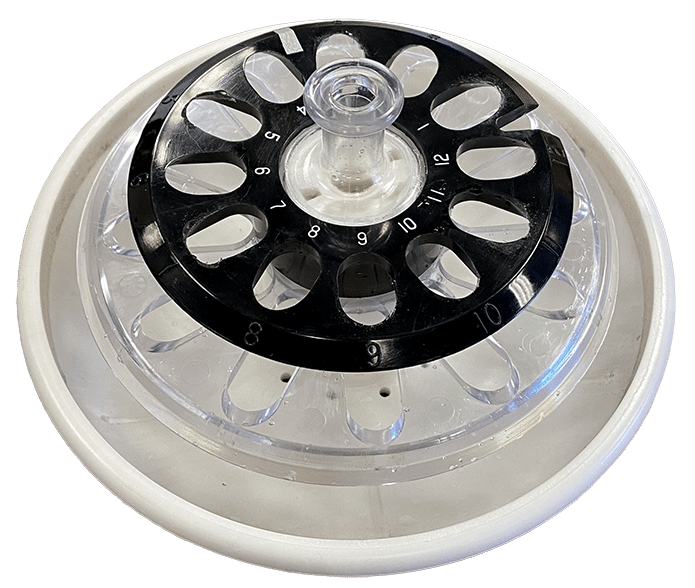 Transition to a new blood banking centrifuge without interrupting workflow
The SERO 12 is compatible with all rotors from the Sero-Fuge, the world's most popular blood banking centrifuge. Each unit arrives ready-to-run with the standard 12-place swing-out rotor (pictured left) included in the affordable price.
What Sets the SERO 12 Apart?
Easy to Use
The fully digital display makes it easy to customize cycle parameters in 5 or 15 second increments. Save up to 10 cycles, enabling easy spinning and simplifying validation. Spin 6 capped or 12 uncapped 13 x 75 mm blood tubes with minimal handling (up to 16 x 100 mm tubes with additional rotor). Tube positions are numbered for quick identification.
No Individual Handling
Tubes can be batch filled, centrifuged, transported, incubated, and emptied using the interchangeable heads that also function as holders.
Easy to Monitor
See cycle status at a glance with the SERO 12's LED lid lighting. Bright lights indicate when the centrifuge is ready to load (off), running (on), or done (flashing). Lights continue flashing until the lid is opened.
Safe and Durable
Enhance lab safety with imbalance protection and a shatterproof lid, which locks until the rotor has stopped completely. The brushless motor and reinforced carbon fiber components ensure years of operation with no routine maintenance.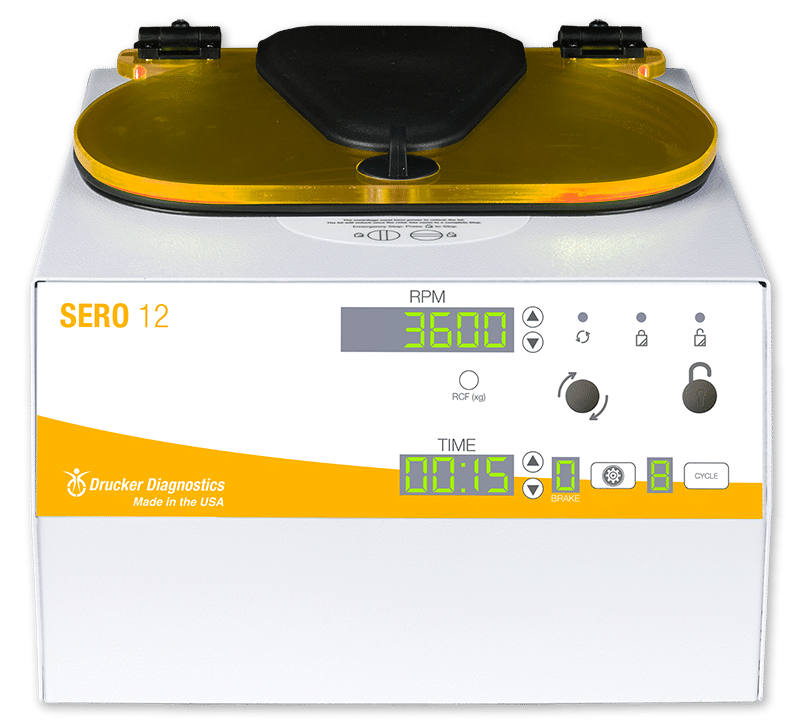 Tube Capacity
6 capped, 12 uncapped (75-100 mm)
Dimensions & Weight
13 x 15 x 9 in (33 x 38 x 23 cm)
27 lbs (12.3 kg)
Centrifugation
Horizontal, max speed 3600 RPM at 1040 xg
Applications
Cell washing, blood grouping, blood typing, cross matching
Included
Standard rotor, 2-year warranty (lifetime on rotor)
Key Features and Functions
Designed, built, and supported in the USA