Routine Lab Clinical Centrifuges
The routine lab demands workhorse centrifuges that can handle a high volume of non-STAT tests. Designed for easy, repeatability-focused operation and low maintenance, Drucker Diagnostics centrifuges are right at home in this demanding environment. Whether your lab seeks to minimize the chance for error with two-button set-and-lock centrifuges or maximize analytic flexibility with our easy-to-use digital models, Drucker delivers the options your lab requires. Some applications, such as the need to process 50 mL tubes, mandate the use of a larger benchtop centrifuge. Or, an array of centrifuges might substitute for a floor model and provide the flexibility and continuous flow that comes with multiple units.
No matter your lab's individual needs, Drucker Diagnostics has a solution for you. From our fully programmable HORIZON series to the best-selling 642E, our centrifuges are designed to meet every demand of the routine lab.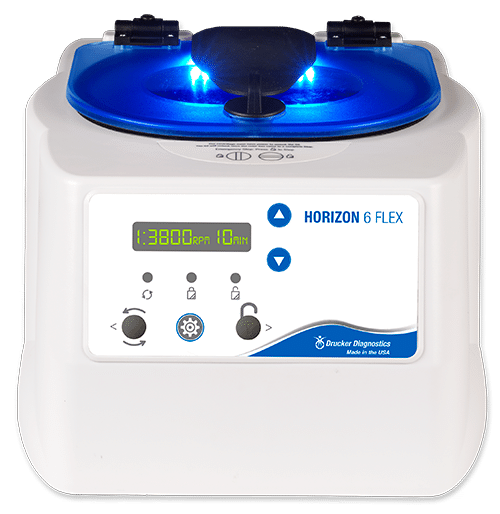 Choose from a variety of centrifuges in 6, 12, and 24 tube capacities
Designed to meet any need (chemistry, coag, PPP, PRP, and/or urine)
All centrifuges process all common tubes and tube sizes
Single speed, preset, and fully programmable models available for maximum flexibility
QUESTIONS? CONTACT US NOW