A Better Way to Spin STAT
With the demand for STAT samples at an all-time high, Drucker Diagnostics' DASH Flex 12 makes reducing TAT easier than ever. Monitor cycle status down to the very last second and modify settings on the fly.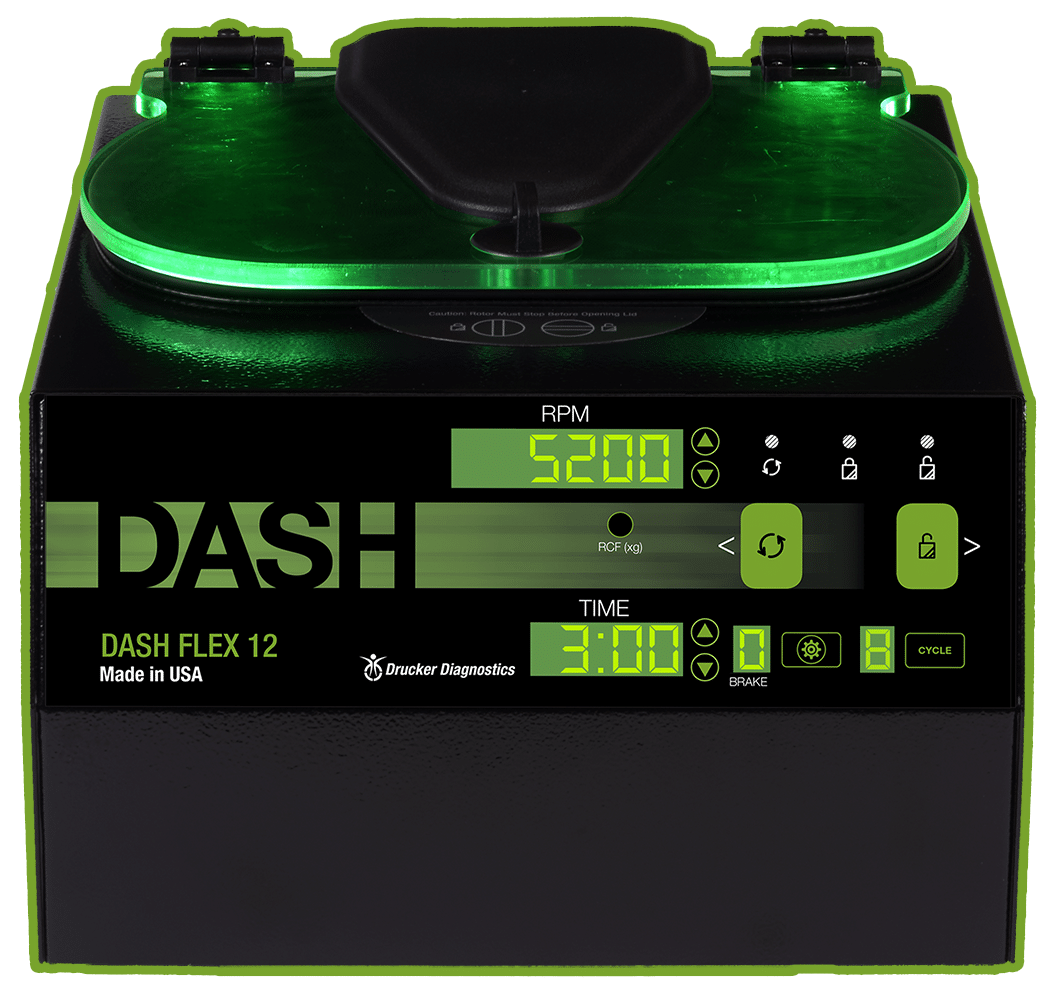 Easy to Monitor
LED lid lighting indicates when the centrifuge is ready (off), running (on), or done (flashing), reducing forgotten samples and keeping your average TAT down. The DASH Flex 12's digital display shows cycle parameters and time remaining.
Easy to Use
Shorten TAT, eliminate forgotten tubes, and reduce wait time with Drucker Diagnostics' DASH Flex 12. The digital countdown and LED lid lighting system show time remaining at a glance.
Eliminate Wait Time
DASH centrifuges are so compact that they can be used in an array in accessioning. The array will allow spinning samples as soon as they arrive, further shortening your TAT.
A Great Value
Unbeatable quality for any budget. Each centrifuge comes ready to run with a horizontal rotor, universal tube holders, and 2-year warranty included in the affordable price. Enjoy years of worry-free operation with DASH.
Capacity

– 12 x 75-100 mm (3-10 mL)
Height

– 9 in. (23 cm)
Width

– 13 in. (32 cm)
Depth – 15 in. (38 cm)
Weight

– 30 lbs. (13.7 kg)
Max. Acceleration Time

– 35 Seconds
Max. Deceleration Time

– 40 Seconds
Cycle Time – 1 to 30 Minutes (± 1%)
Voltage

– 95 to 253 VAC
Frequency

– 50/60 Hz
Max. Power Requirements

– 230 Watts
Centrifuge Motor

– 1/2 H.P. Brushless DC
Mount Nittany Medical Center participated in a Drucker Diagnostics study to address STAT turnaround time (TAT) and occasional sample contamination.
Mount Nittany Medical Center labs used an array of Drucker Diagnostics' DASH centrifuges to create a special STAT accessioning station to decrease TAT by 16.5 minutes. Now, Emergency Department samples do not have to wait for the larger centrifuges to fill up before being spun and sent to chemistry.
"With all the variables accounted for, things have fallen into place. I highly recommend Drucker Diagnostics. They have been a great help to Mount Nittany Medical Center."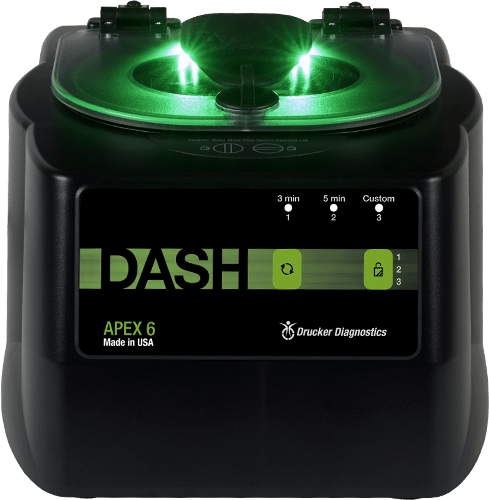 DASH Apex 6
6 tube capacity (75-100 mm)
3 presets, or customize with your lab's validated settings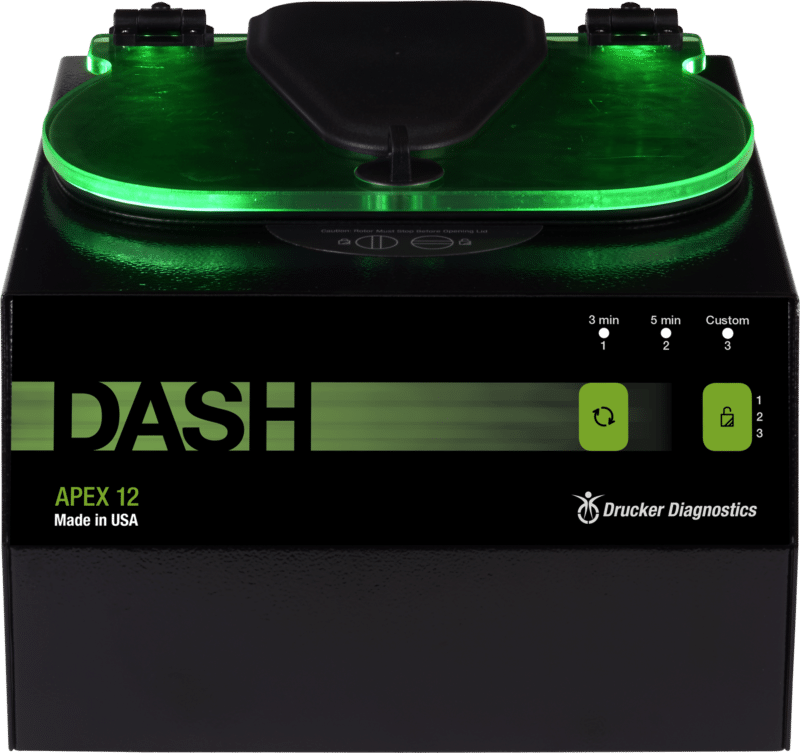 DASH Apex 12
12 tube capacity (75-100 mm)
3 presets, or customize with your lab's validated settings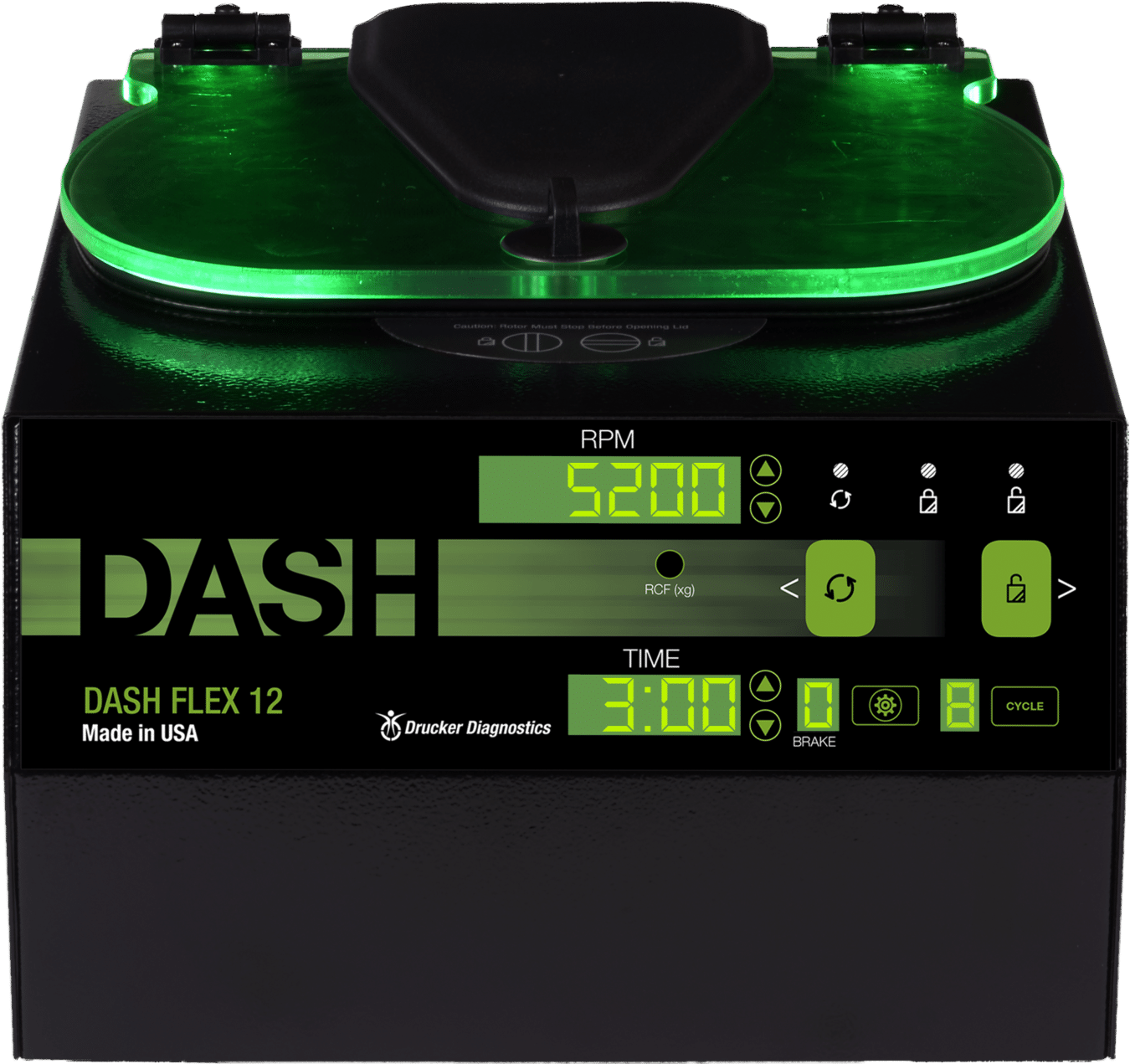 DASH Flex 12
12 tube capacity (75-100 mm)
10 programmable settings
Digital display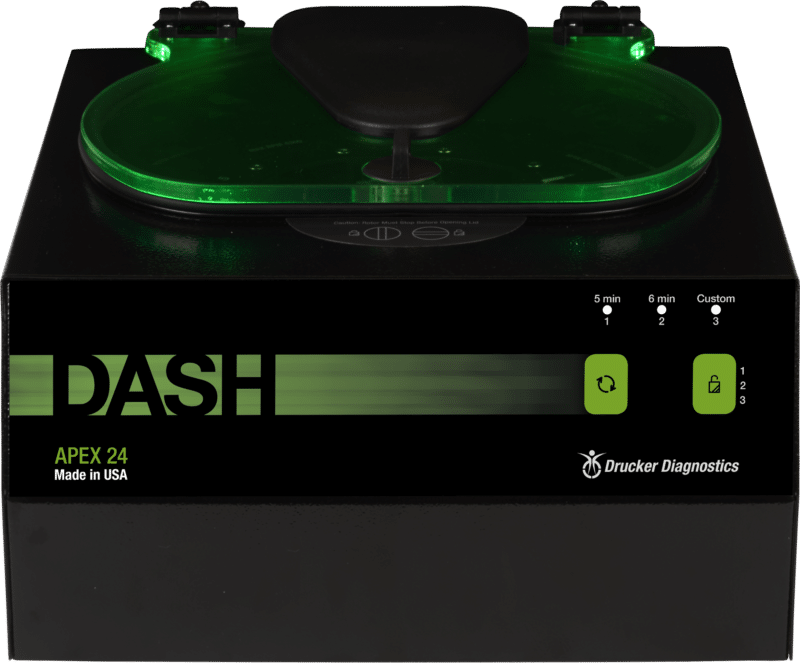 DASH Apex 24
24 tubes (75-100 mm), 6 x 50 mL
3 presets, or customize with your lab's validated settings
Designed, built, and supported in the USA