DASH Apex Stat Centrifuges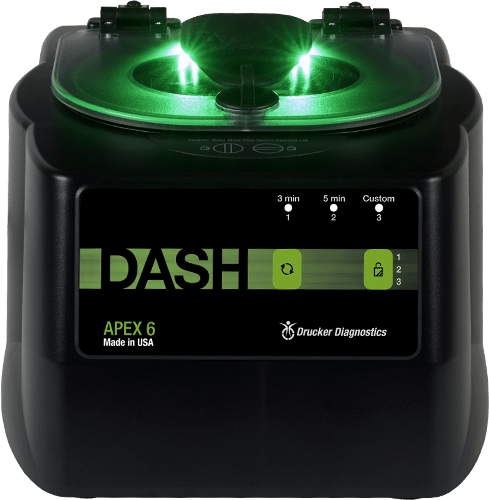 A better way to spin STAT
Simplify and standardize your lab with DASH Apex
EASY TO MONITOR
Choose from three presets or program your own validated cycles. The DASH Apex's simple interface reduces training time and creates standardization across the lab.
EASY TO USE
No more forgotten tubes. Lid lighting visually indicates whether the centrifuge is ready, running, or done.
BUILT TO LAST
Enjoy years of worry-free operation. The DASH Apex is made with reinforced components, protected by Drucker's two-year warranty, and carries a lifetime rotor warranty.
A GREAT VALUE
Unbeatable quality for any budget. Every centrifuge comes ready-to-run, the horizontal rotor and all tube holders or buckets are included in the affordable price.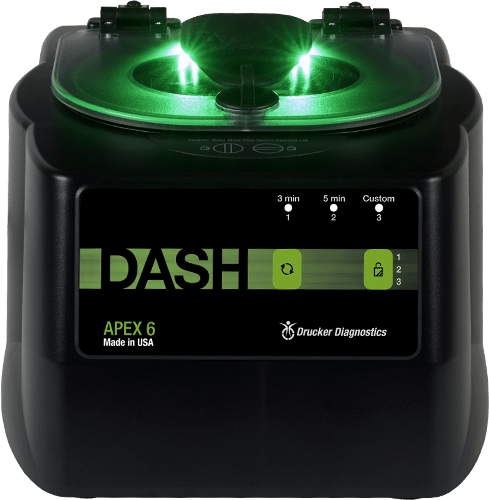 APEX 6
The Apex 6 uses High G-force capabilities to quickly and effectively separate up to 6 samples in 3 minutes. Hospital labs can reduce overall turnaround time with the Apex 6's fast, high-performance sampling and preprogrammed features.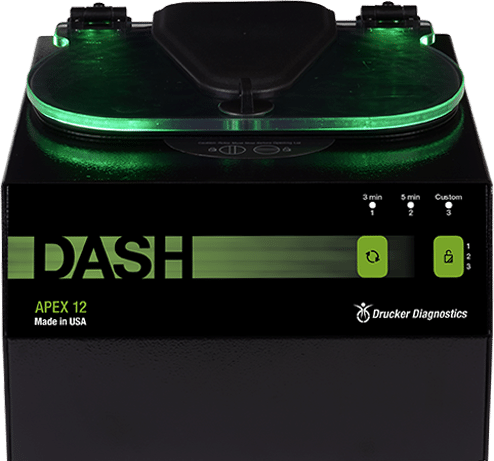 APEX 12
The Apex 12 offers the same high performance as the Apex 6, but can centrifuge up to 12 samples at once in just 3 minutes of processing time. This mid-size centrifuge is perfect for hospital labs and other STAT processing needs.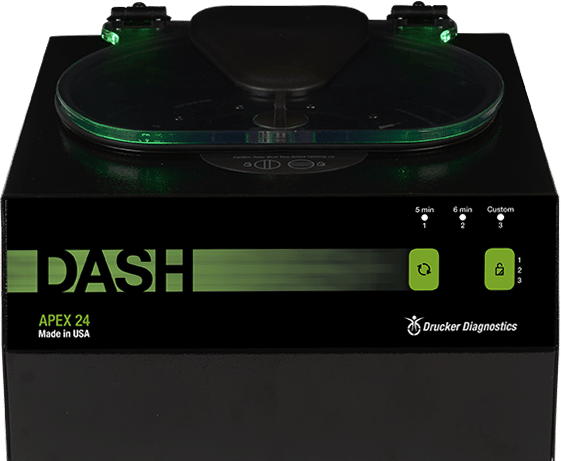 APEX 24
The Apex 24 provides High G-force processing for up to 24 samples in 5 minutes. As the largest unit, the Apex 24 offers higher capacity during each spin. Its reliability, capacity, and power make it a good choice for high-volume STAT.
Mount Nittany Medical Center participated in a Drucker Diagnostics study to address STAT turnaround time (TAT) and occasional sample contamination.
Mount Nittany Medical Center labs used an array of Drucker Diagnostics' Apex centrifuges to create a special STAT accessioning station to decrease TAT by 16.5 minutes. Now, Emergency Department samples do not have to wait for the larger centrifuges to fill up before being spun and sent to chemistry.
"With all the variables accounted for, things have fallen into place. I highly recommend Drucker Diagnostics. They have been a great help to Mount Nittany Medical Center." Bonnie Mesoros
Programmable to Your Lab's
Validated Cycles
Lid Lighting Indicates Status
Patent Pending
Simple 2-Button Interface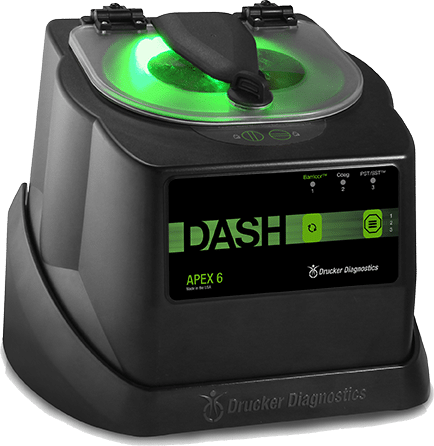 Rugged Carbon Fiber
Reinforced Components
Software Tools
Software tools to calculate, predict, track, improve, and report turnaround time.
SITE VISIT
Site visit to review the tube handling and centrifugation process and recommend improvements to reduce turnaround time.
WEBINARS
Free and accredited webinars on improving efficiency in pre-analytic sample processing.
Online Training
Online access to training materials, PowerPoints, case studies, templates, and more.
30-Day Centrifuge Evaluation
Free, no-commitment evaluation of any of Drucker's centrifuges for 30 days to test in your improved laboratory processes.
Phone Support
Free phone support as needed. Our customer service center is proudly located in the USA.
Designed, built, and supported in the USA