HORIZON 6 Flex FA
Fixed Angle Routine Centrifuge with
Customizable Settings and Digital Display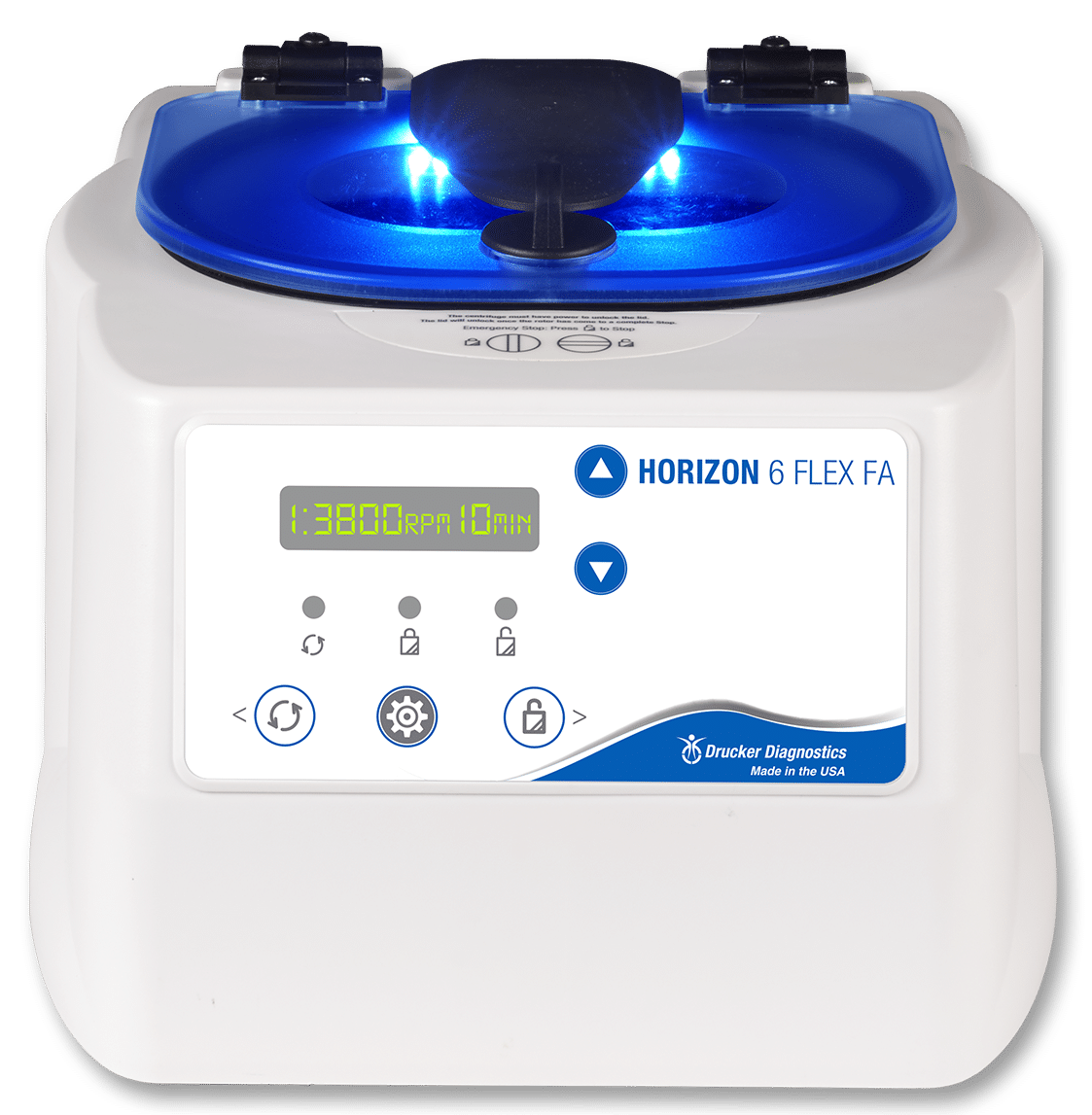 Digital Display
6 Tube Capacity
Fixed Angle Centrifugation
10 Programmable Settings
3 Cycles Preset for Routine Lab Needs
2 Year Warranty
1,850 xg Max RCF
3,900 Max RPM
Lid Lighting Indicates Cycle Status
Designed, Built, and Supported in the USA
Rotor and Tube Holders Included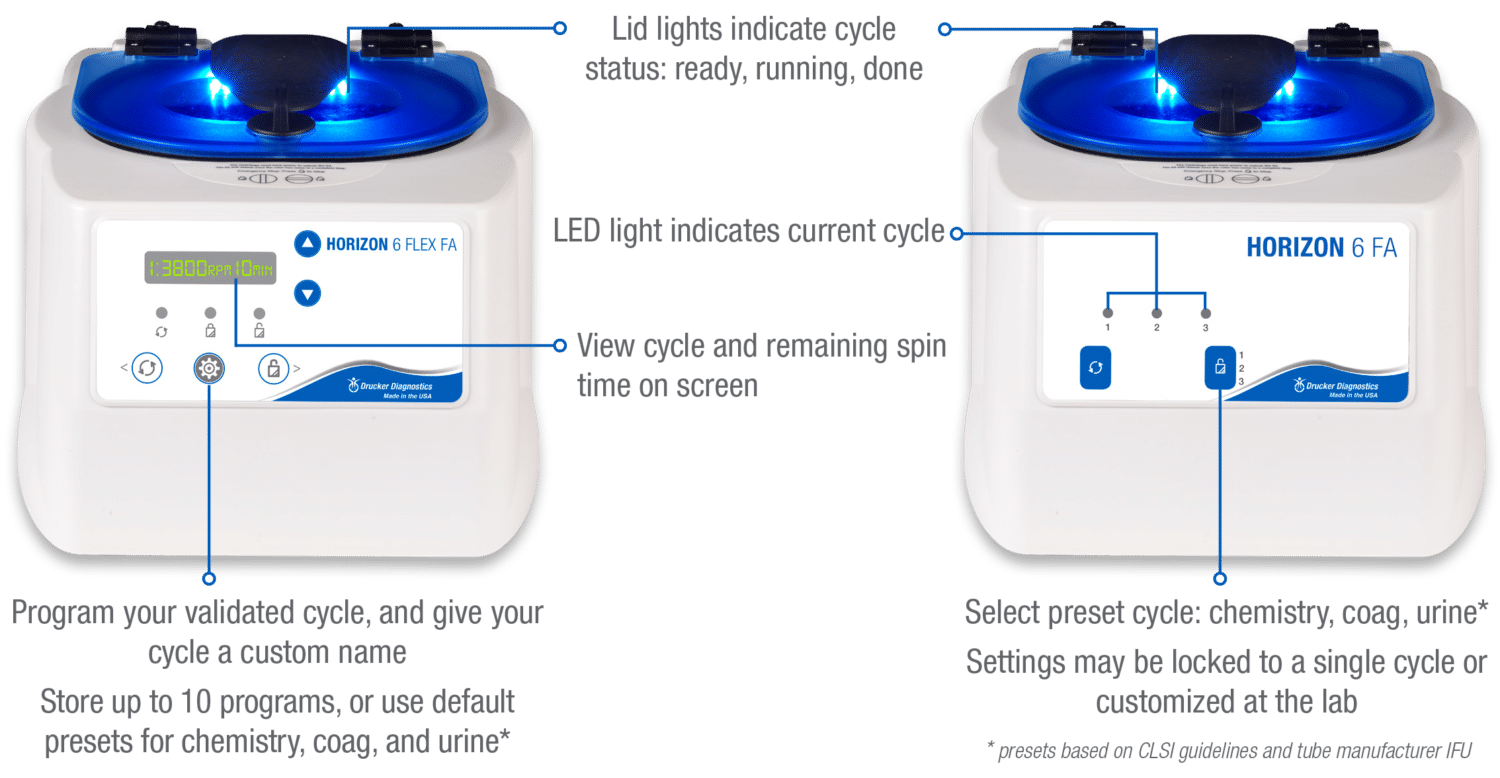 The HORIZON 6 Flex FA centrifuge features a fully digital display and 10 programmable cycles for flexible fixed angle processing in the routine lab. Easily save and select your custom time, RPM, and g-force settings, or choose from three (3) carefully formulated presets. The LED lid lighting prevents forgotten samples and indicates when the centrifuge is ready, running, or done. Process all blood and urine tubes of 125 mm/15 mL or less, right out of the box. The fixed angle rotor, tube holders, and a 2-year warranty are included in the unbeatable price.
Features
Capacity – Up to six (6) tubes
Tube Sizes – 75, 100, or 125 mm (3-15 mL)
Fixed Angle Rotor – Separate specimens at a fixed angle of 45 degrees
Fully Programmable – Save and recall 10 easily customizable cycle settings, or choose from three presets for chemistry, coag, and urine
Set and Lock Controls – Switch between preset cycles, or lock to a single cycle with the easy-to-use two-button interface
Intuitive Lid Lighting – Lid lights are off when the centrifuge is ready, on when running, and flashing when done
Automatic Lid Lock – Centrifuge will not run with the lid open and the lid cannot be opened while samples are spinning
Cool Operation

 – Unique design of the convection based cooling system protects the samples even under the heaviest workloads

Brushless DC Motor

 – Years of operation with no routine maintenance

Clear Shatter Proof Lid

 – Allows for safe sample observation and optical calibrations

Reinforced Guard Bowl – Provides maximum safety and durability
Quiet Operation – Enjoy a sound level of just 64 dBA
Regulatory Approvals – Certified to US, Canadian, and European Safety regulations and standards
Specifications
Height – 9 in. (23 cm)
Width – 12 in. (30 cm)
Depth – 14 in. (36 cm)
Weight – 12 lbs. (5.4 kg)
Sound Level – 64 dBA
Max. Acceleration Time – 20 Seconds
Max. Deceleration Time – 20 Seconds
Factory Setting Range – 1 to 30 Minutes (± 1%)
Voltage – 95 to 253 VAC
Frequency – 50/60 Hz
Max. Power Requirements – 220 Watts
Centrifuge Motor – 1/2 H.P. Brushless DC
Max Speed – 3,900 RPM
Frequently Asked Questions
What is the warranty on Drucker's centrifuges?
Drucker Diagnostics provides a two (2) year parts and labor warranty (except the rotor – see question below).
What is the warranty on the rotor?
All rotors carry a lifetime warranty. Should the rotor ever fail, for as long as you own your centrifuge, Drucker Diagnostics will replace it free of charge.
Will I need to purchase accessories for the centrifuge separately?
All of our centrifuges are sold complete with the rotor and tube holders. No additional accessories are necessary though there are additional options available for purchase.
How often should my centrifuge be calibrated?
Drucker Diagnostics recommends the centrifuge be calibrated every 2 years or 5,000 cycles.
What should be used to clean and disinfect the HORIZON 6 Flex FA?
ONLY isopropyl alcohol, soap and water, or a 10% (5,500 PPM) bleach solution should be used for cleaning and disinfection of the centrifuge and accessories. All surfaces must be dried immediately after  cleaning and disinfecting.
What cleaning solutions should be avoided?
TBQ Germicidal products should not be used as they will cause damage to the centrifuge and void the warranty. The use of fully/partially halogenated hydrocarbons, ketones, esters, ethers, benzyls, ethyl benzenes, and all other chemicals not prescribed by Drucker Diagnostics should not be used as they may cause damage to the rotor chamber, rotor, tube holders, accessories, and centrifuge exterior. If this occurs the warranty will be voided.
Want to Learn More? Request More Information
Designed, built, and supported in the USA