755VES 4 Place
Digital Timer and Speed Adjustment
for Maximum Processing Precision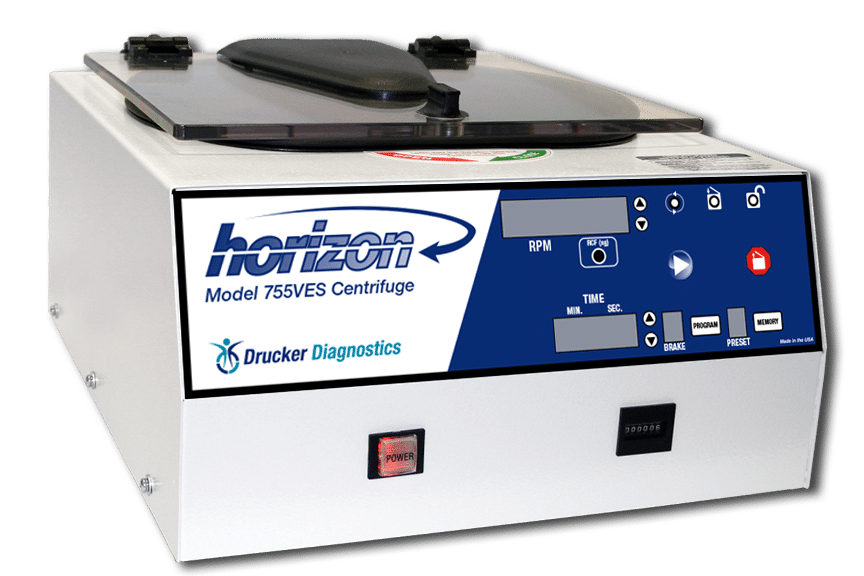 Horizontal Centrifugation
4 Tube Capacity, 60 mL Tubes
Digital Timer
Digital Speed Control
4300 Max RPM
3150 XG Max RCF
Rotor and Tube Holders Included
Features
The Model 755VES 4 Place is supplied with everything necessary for the modern laboratory including a horizontal rotor and 60 mL tube holders. Ideal for Serotology, PPP, PRP, Coagulation, Clinical Chemistry, and More. The exclusive airflow and rotor design guarantees the highest quality sample separations and maintains the integrity of the most sensitive specimens.
Model 755VES 4 Place Features
Electronic Timer with Display – Selectable from 1 to 99 minutes with hold feature
Capacity – Four (4) 60 mL Tubes – Additional rotors can be purchased for other options
Brushless DC Motor – Years of operation with no routine maintenance
Programmable Memory Settings – Customize and save the run from start to finish
Audible End-of-Run Indicator – Sounds when the rotor has stopped to inform the operator that a cycle is completed
Quiet Operation with Low Vibration – A double-encased motor assures quiet performance and low imbalance vibration
Cool Operation – Unique design of the convection based cooling system protects the samples even under the heaviest workloads
Automatic Lid Lock – Centrifuge will not run with the lid open and the lid cannot be opened while samples are spinning
Positive Lid Latching – Firm mechanical latching of the lid prevents the escape of debris
Imbalance Detection – If an imbalance is detected, the centrifuge will come to a safe controlled stop
Welded Steel Construction – Provides strength and durability for years of use
Global Regulatory Approvals – Certified to US, Canadian, and European Safety standards
2 Year Warranty – Peace of mind that parts, labor, and support are fully covered
Specifications
Height – 9.0 in. (23 cm)
Width – 14.5 in. (37 cm)
Depth – 17.0. (43 cm)
Weight – 39 lbs. (17.7 kg)
Max. Acceleration Time – 15 Seconds
Max. Deceleration Time – 15 Seconds
Timer – Electronic, w/hold or 1 to 99 minutes
Voltage – 115/230 (± 10) Volts
Frequency – 50/60 Hz
Max. Power Requirements – 200 Watts
Protection Breaker – 4 Amp. Re-settable
Centrifuge Motor – 1/2 H.P. Brushless DC
Speed Range

500 to 4,300 RPM with Horizontal Rotor

Force

3,150 xg with 4 Place Horizontal Rotor
Frequently Asked Questions
What is the warranty on Drucker's centrifuges?
Drucker Diagnostics provides a two (2) year parts and labor warranty (except the rotor – see question below).
What is the warranty on the rotor?
All rotors carry a lifetime warranty. Should the rotor ever fail, for as long as you own your centrifuge, Drucker Diagnostics will replace it free of charge.
Will I need to purchase accessories for the centrifuge separately?
All of our centrifuges are sold complete with the rotor and tube holders. No additional accessories are necessary though there are additional options available for purchase.
How often should my centrifuge be calibrated?
Drucker Diagnostics recommends the centrifuge be calibrated every 2 years or 5,000 cycles.